Homemade Facial-Home vaporizer You can heat the water in a kettle or pot. Wait for the water to come to a boil, then turn off the heat source. It will be much more practical and easy to pour the water over the bowl if you heat it in a kettle.
While you are boiling the water, you can gently wash your face with a cleanser or exfoliator to remove any residual dirt or makeup on your pores. You can then rinse your face and pat it dry with a clean towel.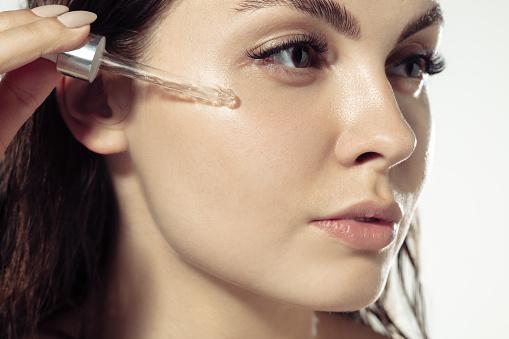 Pour the water-Homemade Facial 
Once the water is boiling, place a heat-resistant bucket or bowl, such as ceramic or glass, on a heat-resistant mat and pour the water over it. Avoid using plastic containers for this, as plastic can expel harmful chemicals when it comes into contact with boiling water.
Add some essence
You don't have to add essences, but if you do you benefit from a 2-in-1 facial, and certain oils and herbs can benefit your respiratory system and skin. You can add a few drops of essential oil to the water, even add some herbs like basil or lavender. Learn more about facial Steam 
Make sure you don't add the oil or herb when the water is boiling because the aroma will eventually evaporate!
Steam your face
Put a towel over your head and bend over the water. The towel you choose should be large enough to cover your head and the water, it is the only way to catch all the steam. You should sit in a way that is close enough to the steam to feel the mist on your face, but not so close that you burn yourself.
It is advisable that the sessions with the homemade facial steamers last a minimum of 5 minutes to achieve the desired effects and, above all, not to extend them more than 20 minutes, as we could run the risk of suffering some damage.
Apply a mask
As I mentioned before, the steam favors the effects of the topicals that we apply on our skin. After undergoing the steam session, rinse your face with a little cold water to close open pores, pat your face dry with a clean towel, and then apply the face mask.
Hydrate
Lastly, hydrate your skin. Choose a non-comedogenic lotion that won't clog your pores and damage your skin, and make sure your hands are thoroughly clean before applying. Now you are sure to feel wonderfully relaxed, renewed and totally rejuvenated!
How to add essences to your facial sauna
aromas for your facial steamer Not all vaporizers are adapted to the application of aromas. You should not add it directly to the tank as this can affect the boiling temperature and cause some damage to your device. Most of the vaporizers that are prepared for aromatherapy have a small compartment specially designed to add the essence. The aroma format can be from a simple oil or herb extract to a piece of fresh fruit.
You can cut a piece of fruit and put it directly into the compartment, without overflowing it, and be sure to clean it thoroughly after use. You can also do with the oils and essences, you can add a few drops directly into the compartment, or alternatively, you can put a few drops on a cotton ball and add it to the compartment.
Not all facial saunas include the possibility of adding medicinal essences and oils. For this reason, make sure before buying one of the characteristics of each sauna. You can take a look at our review of the best face steamers that are having the most success.
What essences should I choose?
There are a wide variety of oils, essences and herbs that you can add to your steam sessions and, each of them, provides different benefits to repair or mitigate skin or health conditions. Here I am going to give you some aromatherapy ideas that can help you:
Elimination blocked nasal (sinusitis): essential oils of menthol, eucalyptus or camphor and mint leaves.
Reduction of anxiety and stress: bergamot and sandalwood oils are very relaxing, you can also add lavender flowers or chamomile tea.
Helps to fall asleep: Lavender and patchouli oils are great at night, as well as valerian root or chamomile.
conclusion
Now you know what you need to do to achieve clear, youthful-looking skin with a long-lasting, relaxed tone.
You will become addicted to facial saunas after the first use! One of the advantages of facial steam is that it is very practical and its treatment is not very laborious and, therefore, it is relatively easy to adapt it to our daily routine. So get the most out of your skin with steam sessions.