Chromecast with Google TV is a media streamer that has been introduced by Google. The Old version of the Chromecast can only stream by connecting your phone. But the Chromecast 2020 with Google TV the latest is eligible to make your smart TV a smarter one.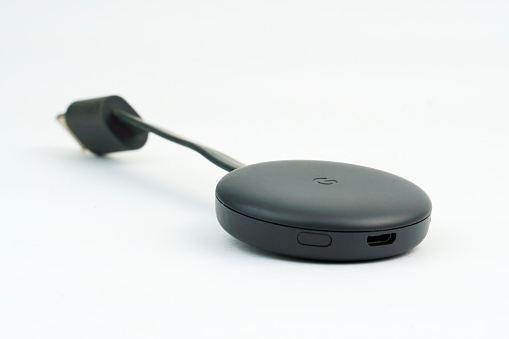 More about Chromecast with Google TV 2020
Chromecast with Google TV runs on an Android-based Platform and you can have the best experience from this by purchasing it for a small amount like $49. With the smart features of Chromecast 2020, it is well poised to compete with other media streamers such as Amazon Fire TV, Apple TV, and Roku. Besides, no unwanted ads and banners are running like in other media streamers.
You can use Filelinked to load free Movies and TV shows apps for free. Just like using AC Market to install many awesome Android apps and games.
Specifications
Chromecast with Google TV is a small and portable device that supports 4K, Dolby Vision, and Dolby Atoms. The users can have a smooth media streaming experience, using Chromecast 2020.
You have to plug this device into an HDMI port on your TV. You don't need an external power supply for the old version but for the latest version, an external power supply is needed.
Chromecast offers you a 7.5W Power Brick with a USB-C interface.
It offers you 4.5GB of storage to install apps you like.
New multifunctional Remote Controller
Chromecast 2020 offers you a smart Remote Controller with an inbuilt Google Assistant feature. It has a remote accelerometer which helps you to play games easily. The Remote communicates with the Chromecast via Bluetooth Technology.
It is a very simple Remote Controller. You can customize the buttons and assign the functions you like. There are two separate quick access buttons for YouTube and Netflix.
Read more: mob psycho 100 season 3
Features
You have many things to watch like News Channels, Movies, Documentaries, TV Shows and many more. Lots of background running apps cause this device to slow down. In that case, you can use the RAM cleaning tool like a clean master. Those tools help you to get more performance out of low RAM devices.
Your favorite stuff will be suggested with the help of its Google AI System.
Chromecast with Google TV supports any Video Streaming Service like Netflix, Prime Video, Hulu, Disney, HBO Max, etc.
There are more than 6000+ apps that support and can be installed.
You can browse any categories and they are categorized in order to browse easily.
You can search any program by giving voice commands with the help of the inbuilt Google Assistant feature in the Smart Remote.
There are many inbuilt features like this that are not in other media streamers.
User-Friendly Interface
You can customize the interface as you like and arrange the apps in it. Chromecast 2020 gives fully customization according to your favorites and keep it clean.
Pros and Cons
There's only one negativity in Chromecast 2020 which is, Chromecast with Google TV does not support Apple TV. It is the only disadvantage.
FAQs
Is Chromecast Service a Free Service?
No, Chromecast isn't free. You have to pay an amount for the monthly subscription to the Google TV Facility.
Chromecast with Google TV is a media streamer that runs on Android Based platform which gives the user a smarter TV experience. So, why don't you have a look at it?